"Rose Township 1837 - 1987"  history book available for purchase at Township Hall. For further information on Rose Township History or Genealogy contact Pat at priestleyp@hotmail.com
Genealogy information for Holly, Fenton, & the Hartland area - for more information please contact Gary Carlson glc14041@yahoo.com
Monthly genealogy discussion workshops are held on the second Monday of each month at 7:00 p.m.  Sessions are open to anyone interested in genealogy, and free of charge.  Held at the Transfiguration Lutheran Church just north of the Fenton City Limits, next to Chase Bank on Fenton Rd.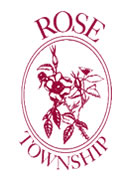 Rose Township was originally populated by the Chippewa Indians.  According to documents, Chief Tipsico frequented this area in the late 1800's.  He has the reputation of being an accomplished athlete, strong ruler and a friend to the settlers.  Tipsico Lake was formerly known as Long Lake.  The name was changed as a memorial to this great chief.
The earliest records of land ownership in Rose Township were made by Jacob N. Voorheis and Daniel Hammond.  The first log house was built in 1835 by Daniel Danielson.  Records show that in 1836 there was a rush of settlers which included Baits, Coffin, Doty, Garner, Gage, Soper, Thomas and Wendell. This log house was located on Joel Road and was the first home of George and Sarah Pittenger.
The Act of Legislature creating Rose Township was approved on March 11, 1837.  Research shows the population of Rose Township to be 1,084 in 1874.  In 1970 there were 2,000 people and, according to the 2010 census, Rose Township is home to over 6,800 people.